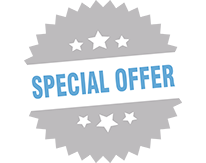 Exam, X-Rays and Adjustment — ONLY $39!
Just mention that you saw this Web Special to redeem.
OFFER EXPIRES: December 31, 2023
Massage Therapy in Boise, Idaho
Our Massage Therapy clients report deep relaxation, less discomfort and a noticeable reduction in muscle cramps with a great deal less overall tension combined with a sense of calm and well being.
Our massage therapy services are a great way to relieve muscle tension, recover from an injury, and reduce everyday stress. It even improves mood, promotes blood circulation and overall health.
Massage Services
Car Accident Massage — Car accidents are extremely horrific and the pain can take several hours or even days before completely setting in. You might be "OK" the day it happens but you may wake up the next morning with immense pain or even be unable to move due to stiffness of the limbs, neck or back. We specialize in deep tissue, auto injury rehabilitation, and car accident massage. Our extensive experience means that we know every car accident massage technique to ensure a speedy recovery.
Deep Tissue Massage — Deep Tissue Massage is a massage therapy technique that focuses on the deeper layers of muscle and tissue. Our therapists pinpoint the real source and the core of the problem to relieve muscle aches, pains, and tension.
Sports Massage — Sports massage therapy is specifically designed to help athletes prepare their bodies for optimal performance and recover from the pain that follows total exertion during sports. Pushing your body to the limits will take its toll and we are here to help reverse the damage, relieve the pain and help the toxins leave your body. Our therapists ensure you are feeling and performing at your best.
Therapeutic Swedish massage — Swedish Massage induces great relaxation, which will leave the body feeling totally rejuvenated. Swedish Therapeutic massage helps you reach a new level of relaxation, peace of mind and some say even they have a new found energy. Swedish massage also helps people recuperate from traumatic life experiences and leave the mind, body, and soul refreshed.
Pregnancy Massage — Our Portland Pregnancy Massage therapy is specifically tailored for an expectant mother's needs. Pregnancy massage is performed by specially trained therapists who will help you to relax and relieve muscle tension, which will alleviate some of the stress that comes with being pregnant.
Reflexology – Our Boise reflexology and massage services focus on the hands and feet. Reflexology utilizes ancient techniques fused with modern science. The process applies positive pressure on specific points of the body that will leave you in a higher state of relaxed bliss.
Not all chiropractors in Idaho include massage as part of their services. We feel it is a vital part of your overall treatment, after all, your muscles hold and control your whole body! Integrating massage therapy as a treatment plan is one thing you will find we do best here in our Boise chiropractic clinic.
See What Our Patients Are Saying…