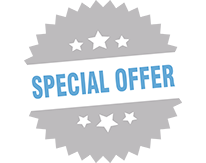 Exam Consult and 60 minute Massage — ONLY $39!
Just mention that you saw this Web Special to redeem.
OFFER EXPIRES: October 31, 2021
Regenerative Medicine in Boise, Idaho
What is Regenerative Medicine?
Why merely treat the symptoms when you can ELIMINATE THE CAUSE?! Regenerative medicine is the introduction of unspecialized cells (pluripotent) into the body aimed at triggering the body's natural healing mechanisms.  It has long been known that a healthy body should be able to repair itself without any outside help.  Unfortunately, with injury, disease and the aging process the body's ability to carry out such healing mechanisms becomes inhibited.  Regenerative medicine essentially restores the bodies ability to once again repair and restore itself.
Got Stem Cells?
Why does your body's ability to heal itself decrease with age?  The answer is in the stem cell.  As we age stems cells both decline in numbers and their ability to become new cells required for regeneration of new tissue.  As there are no other cells in the body with the natural ability to generate new cell types, we are ultimately at hand of the stem cell.
Systemic Conditions
Fibromyalgia
Neuropathy
COPD
Cardiovascular Disease
Chronic Pain Syndrome
Crohn's
Failed Back Surgery Syndrome
Bone & Tissue
Osteoarthritis
Rheumatoid Arthritis
Ankylosing Spondylitis
Ligament & Muscle tears
Tendon Overuse Injuries
Joint Pain
Cartilage & Labrum tears
Joint Degeneration
See What Our Patients Are Saying…